Get Your FREE Consultation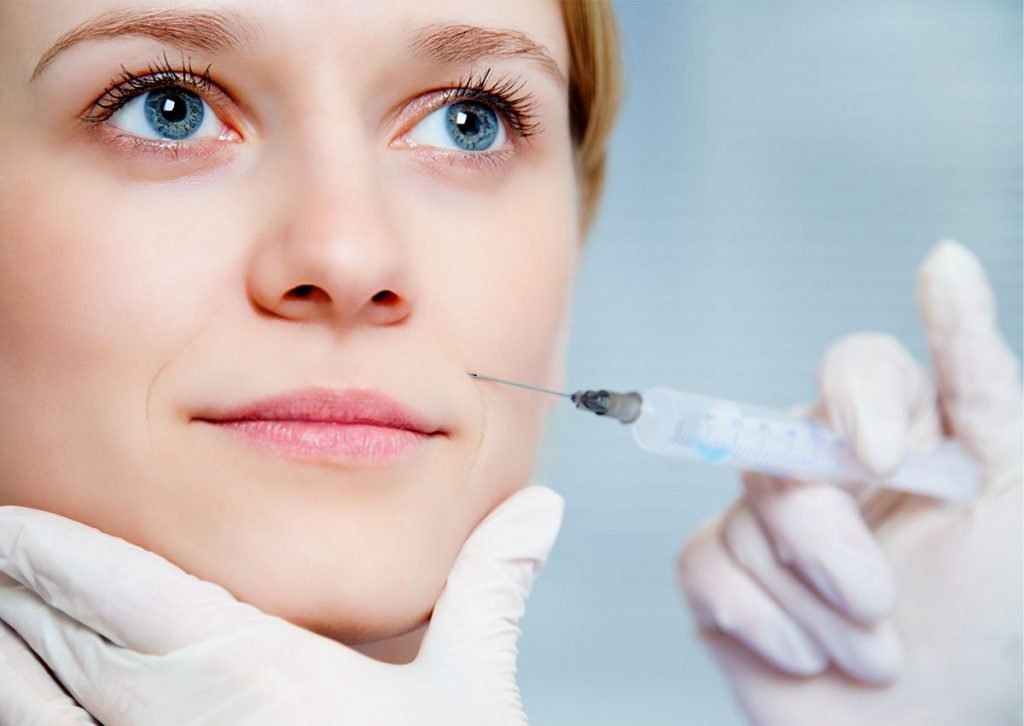 Facial Fillers / Injections What Are Facial Fillers?
Facial fillers are products such as collagen, hyaluronic acid and calcium hydroxyl apatite that rejuvenate facial skin by reducing or eliminating wrinkles, raising scar depressions, enhancing lips and replacing soft-tissue volume loss through facial injections. With age, our skin becomes more susceptible to wrinkles and sagging. Exposure to sun and years of muscle movement ( squinting, chewing, smiling ) contribute to tissue breakdown of the skin.
Facial fillers are temporary to long-lasting solutions administered through a few tiny facial injections on specific areas of the face. Various types of facial fillers are available; each is designed with one or several purposes, such as wrinkle reduction and lip augmentation. A qualified dental or medical professional can help you determine which facial injections and what injectable fillers treatments are right for you. Facial fillers will volumize creases and folds in the face in areas that have lost fat and collagen as we age. Hyaluronic acid is the natural filler substance in your body. The face starts to lack volume and appears aged with deeper nasolabial folds, unaesthetic marionette lines, a deeper mentalis fold, the lips start to thin, and turning down the corners of the lips. Hyaluronic acid fillers such as Restylane and Juvederm® are then injected extraorally right underneath these folds to replace the volume lost which creates a younger look in the face. Dermal fillers can be used for high lip line cases, asymmetrical lips around the mouth, lip augmentation, and completing cosmetic dentistry cases by creating a beautiful, young-looking frame around the teeth
HERE ARE SOME MORE WELL KNOWN OF THE BEST DERMAL FILLERS:
 Facial Filler: Made of a hyaluronic acid gel, Juvederm® is a naturally-occurring substance in the skin that contributes to volume and hydration. Juvederm® is designed to temporarily correct moderate to severe facial wrinkles and folds. Juvederm® is made by Allergan, the same makers of Botox®.
Restylane Facial Filler: A non-animal, biodegradable gel composed of hyaluronic acid, Restylane is a soft tissue dermal filler that adds volume to the skin through tiny injections; smoothing facial folds and wrinkles in areas around the mouth and eyes.
IN ADDITION THERE ARE SOME LESSER KNOWN DERMAL FILLERS:
Collagen (Zyplast/ Zyderm): A soft-tissue dermal filler made from purified cow skin used to fill wrinkles, lines, and scars on the face. Collagen is a naturally-occurring protein that supports various parts of the body, including skin, tendons, and ligaments; it will eventually absorb into the body.
Sculptra: An injectable made of synthetic polylactic acid contained in microspheres, Sculptra is the first FDA-approved injectable for the restoration of lost facial volume (correction of lipoatrophy) in people with HIV infection.
Captique: Utilized for filling moderate to severe facial wrinkles and folds around the nose and mouth, is a soft tissue filler that adds volume to certain areas of the face; derived from non-animal-based hyaluronic acid.
Hylaform: Fills moderate to severe wrinkles around the nose and mouth, Hylaform ® is a dermal filler that has been chemically modified from hyaluronic acid; designed to temporarily smooth the surface the skin.
Radiesse®: A synthetic dermal filler made of calcium hydroxyapatite is utilized for the correction of moderate to severe wrinkles and folds. This injectable is a longer-lasting filler because the body forms collagen around the microspheres; adding bulk to the injected areas.